Biography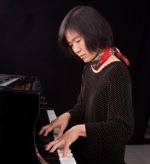 Atsuko Seki is a Japanese concert pianist. She was born in Tokyo. Currently, she lives and acts in Germany. She has become famous worldwide through her concert tours.
Education:
1983 – 90 Musashino School of Music, Tokyo (Prof. Toshiko Maruyama)
1991 – 95 Music Academy Dortmund (Prof. Arnulf von Arnim)
Prizes:
1991 1st prize at the International Schubert Competition in Dortmund
1994 3rd prize at the international piano competition "José Iturbi" in Valencia
1995 1st prize at the international piano competition in Pinolero
1996 "George and Virginia Sidwell" prize at the William-Kapell-Competition in Maryland
Concerts:
Chamber music hall of the Berlin Philharmonic
Meistersingerhalle in Nuremberg
Beethoven House in Bonn
National Palace in Sofia
Also in many other places like Switzerland, Italy, Spain, Korea, and Japan
As a special event she interpreted the 5th Beethoven Piano Concerto in the Tokyo Forum
Since 1997 teaching assignments in the Music Academy Detmold.
Since 2008 member of the Trio"MusArto" and the Trio "Phönix".